Legendarische investeerder Mark Mobius: "Bitcoin Will Be Alive and Well"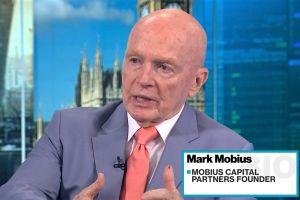 Een andere grote investeerder heeft Bitcoin net onderschreven en merkt op dat er een use-case voor is. Volatiliteit voorkomt echter nog steeds dat hij investeert in cryptocurrency.
"There's definitely a desire among people around the world to be able to transfer money easily and confidentially. <..> I believe Bitcoin and other currencies of that type are going to be alive and well," zei Mark Mobius (82), een legendarische investeerder en mede-oprichter van een vermogensbeheerder Mobius Capital Partners, in een podcast met Bloomberg.
Hij bevestigde echter dat hij niets in crypto heeft en zegt: "Whether I would invest in it is not a question. You have incredible volatility and, at the end of the day, you can't chase one individual group or one organization that will keep track of what is going on."
"Mark!!... The volatility is one of the most attractive qualities of crypto from an asset managers perspective. The idea of asymmetric risk allows us to use this unique and uncorrelated asset class to greatly increase our return on risk in any otherwise well-diversified portfolio. Just as I, in my portfolio, am holding about 3.5% in emerging markets, I believe that one day soon asset managers around the world will diversify with crypto," zei Matti Greenspan, senior marktanalist op sociaal handelsplatform eToro.
Mobius is niet de enige legendarische belegger die recent crypto heeft onderschreven. Marc Faber (73), een legendarische Zwitserse belegger, heeft onlangs geïnvesteerd in bitcoin. Faber, die vaak wordt aangeduid als "Dr Doom" vanwege zijn bearish kijk op de aandelenmarkt, de economie en het monetaire beleid van de centrale banken, zei dat het de jonge lezers waren van zijn investeringsnieuwsbrief ("The Gloom, Boom & Doom Report") en Wences Casares, CEO van Bitcoin-portefeuilleverancier Xapo, die hem aanmoedigde om zijn eerste investering in bitcoin te doen.
Aan de andere kant vertelde David Siemer, CEO van een bedrijf in financiële producten, Wave Financial , Bloomberg in een aparte podcast dat "cryptocurrency een niet-gecorreleerd actief is. Van elke belegger met een brede portfolio, het toevoegen van een klein deel van dit actief aan deze portefeuille verbetert de risicoprofielen."
Met betrekking tot de stijging van Bitcoin tot $8.000, zei Siemer dat: "It's been refreshing that it's come this quickly; obviously, we're all in on this sector and very bullish. As far as where the price goes, it's obviously a very speculative asset, and we [Wave Financial] don't publish things like future price targets. There's an incredible amount of momentum right now – our own guess, and we have our own trading teams, is that it's going to continue to rise over the next few months."
Hij dringt er ook bij mensen op aan verder te kijken dan Bitcoin, zoals "we zien vandaag een veel grotere prijsbeweging in veel andere activa." Bijvoorbeeld, de meerderheid van de altcoins overtreffen vandaag de meest populaire cryptocurrency.