Crypto-markt crasht: Bitcoin daalt 9%, Ether -7%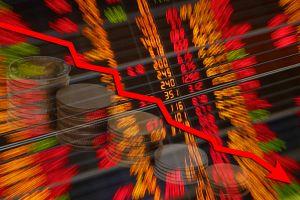 De crypto-markt stortte op vrijdagochtend (UTC-tijd) plotseling in en verloor bijna al haar winst van deze week, voordat hij enigszins herstelde.
Alle grote munten zijn nu rood (04:14 UTC), terwijl de absolute meerderheid van tokens uit de top 100 in de afgelopen 24 uur met 10%-20% is gedaald. De totale marktkapitalisatie daalt met bijna 10% tot $234 miljard.
Bitcoin daalde met bijna 10%, ether verloor bijna 7%, terwijl XRP, Stellar en Cardano de grootste verliezers zijn van de top 10-munten.
Top 10 munten per marktkapitalisatie:
(04:14 UTC)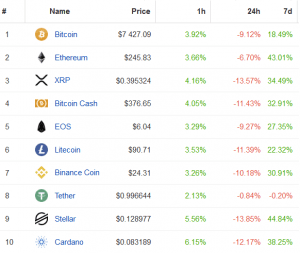 ___
Bitcoin-prijsgrafiek:

__
Volgens Tuur Demeester, oprichter van Adamant Capital, een alpha-hedgefonds van Bitcoin en enkele andere leden van de cryptoverse, werd deze flash-crash geleid door de verkoop op de Bitstamp-uitwisseling, waar de bitcoin-prijs daalde tot $6.178 voordat deze weer boven $7.000 terugkeerde.
Flash crash was lead by selling on @Bitstamp. https://t.co/0I5ZWxdv5w pic.twitter.com/sIv2gS24Nu

— Tuur Demeester (@TuurDemeester) May 17, 2019
__
Bitstamp was niet beschikbaar voor onmiddellijke reactie.
"This last drop was likely caused by a combination of profit-taking and also algorithmic trading compounding the swift fall," vertelde Jehan Chu, mede-oprichter van Kenetic Capital, aan CNBC. Volgens hem kunnen we verwachten dat dit soort steile stijgingen en dalingen nog enige tijd zullen aanhouden totdat institutionele beleggers het marktvolume zullen vergroten.
Hij benadrukte ook dat de algehele interesse en investeringen zich blijven uitbreiden rond een groeiende kern van echt blockchaingebruik en -adoptie.
Other reacties
I've never seen anything quite like this before. I've seen similar things, but nothign that moved the market nearly 20%.

— lowstrife (@lowstrife) May 17, 2019
__
Huuuge #BTC long liquidation on Bitmex on that huge sell-off just now which is reportedly driven by a massive sale of 3600 BTC on @Bitstamp. Some reports this could have been an algo gone wrong! Every bid from $7800 to $6200 wiped out in less than 15 minutes. pic.twitter.com/jKQj0sFhii

— taiwandan (@taiwandan) May 17, 2019
__
Even more egregious on ETHUSD. Mex wicked to 190, while low elsewhere was ~235. pic.twitter.com/nhsKhtOZOP

— Su Zhu (@zhusu) May 17, 2019
__
This is what happened

1. A jackass put up an aggregated sell of 5000 $BTC on stamp

2. Stamp poor depth + algo glitch?

3. Bmx index is 50% on stamp

4. Massive Bmx liq tanked the mkt

5. Despite all ☝🏻BTC quickly bounced back to $7000

This might be the best chance to BTFMD

— Dovey Wan 🗝 🦖 (@DoveyWan) May 17, 2019
__
Sounds like this entire event was someone price manipulating by mass selling on Bitstamp to buy on Bitmex. Good news is the market bounced back.

If we get back to 8k in a few days there is zero doubt we are in bull season

— Crypto Quantamental (@CryptoQF) May 17, 2019