Trump haalt uit naar Bitcoin, maar Crypto-community zegt "Bedankt"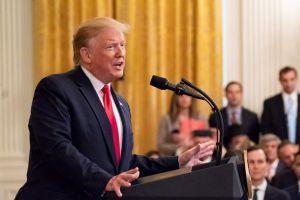 De Amerikaanse president Donald Trump heeft uitgehaald naar cryptocurrencies - in het bijzonder gericht op Bitcoin en Facebook's Libra-project, en erop aandringend dat het sociale netwerk en andere symbolische uitgevers moeten "worden geconfronteerd met wereldwijde regels" als ze van plan zijn "banken te worden."
In drie sterk geformuleerde tweets stelde Trump: "I am not a fan of Bitcoin and other cryptocurrencies, which are not money, and whose value is highly volatile and based on thin air."
Sommige liefhebbers van cryptocurrency hebben sociale media gebruikt om de opmerkingen van de president aan de kaak te stellen, maar net zoals velen zeiden dat de uitbarsting waarschijnlijk een vermomde zegen zal zijn - het helpen verlenen van cryptocurrency met verdere erkenning en blootstelling.
Tron's Justin Sun reageerde hierop door Trump uit te nodigen voor een lunchbijeenkomst met crypto-leiders en Warren Buffett, waarbij hij zei dat de president "misleid was door nepnieuws."
In beide gevallen is Trump onlangs toegetreden tot de rangen van andere functionarissen die per ongeluk een zaak voor Bitcoin hebben ontwikkeld en laten zien waarom het beter is in vergelijking met traditionele fiat-geldsystemen.
Trouwens, er circuleren in het cryptoverse twee digitale munten met een Trump-thema:
TrumpCoin (TRUMP) (1,386th by market capitalization) - "TrumpCoin-helping to Make America Great Again by supporting President Trump in his fight against fake news, corruption and the deep state." Het is de afgelopen 24 uur met 8% gedaald.
President Trump (PRES) (2,283rd by market capitalization) - "The most actual price for one President Trump [PRES] is $0.004386," volgens Coinpaprika.com. De prijs is met 4% gedaald.
Andere reacties op de recente Trump-tweet:
4/ Why? Because this is the first serious payment innovation in decades. Yes, #crypto is used for illegal activities, but much less frequently than the dollar is—& crypto is easier to track (check w/ the FBI!). Mr President, you don't need to choose between #crypto & the dollar!

— Caitlin Long 🔑 (@CaitlinLong_) July 12, 2019
Je kunt hier meer reacties lezen.
En een paar woorden van de Fed
Ondertussen zei de voorzitter van de Federal Reserve Jerome Powell in een vergadering over de Amerikaanse Senaatscommissie op Facebook en Libra dat hij een toekomst kon voorzien waarbij meerdere valuta's in het land konden worden gebruikt, waarbij Bitcoin een van deze is.
Powell stelde het scenario gelijk aan het nationale bankentijdperk van Amerika - de periode halverwege eind 1800 tussen de oprichting van gecharterde banken en de lancering van de Federal Reserve in het midden van de jaren 1910.
De voorzitter van de Federal Reserve meende, "Really almost no one uses Bitcoin for payments, they use it more as an alternative to gold. It is a store of value – a speculative store of value, like gold."
Over Libra zei hij: "The size of Facebook's network means it could be – essentially – immediately systemically important."