Nieuwe Crypto-crash geeft alsnog hoop op herstel op lange termijn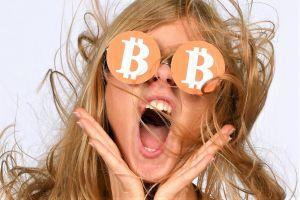 De hele crypto-markt heeft zich tussen donderdagavond en vrijdagochtend zwaar verkocht, waardoor Bitcoin de afgelopen 24 uur met meer dan 10% is gedaald om onder het niveau van $3.300 te komen voordat het enigszins herstelde. Het algemene sentiment is echter nog niet veranderd - ondanks het feit dat de marktcrash slechter kan worden, hebben cryptocurrencies nog steeds een groot potentieel.
Nu zijn zelfs de twee "sterren" van deze week - Golven (-20%) en Factom (-31%) - sterk gedaald, waarbij hun wekelijkse winst werd teruggebracht tot respectievelijk 25% en 12% (UTC 06:15 AM).
De sterke verliezen kwamen nadat de Amerikaanse Securities and Exchange Commission (SEC) zei dat ze een beslissing over het al dan niet goedkeuren van het langverwachte bitcoin-backed exchange traded fund (ETF) door financiële onderneming VanEck zouden uitstellen. De nieuwe deadline is nu vastgesteld op 27 februari 2019.
Top 10 munten (UTC 06:35 AM)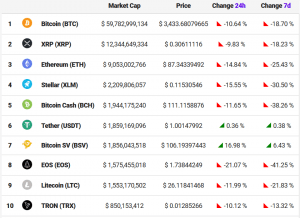 ____
"Anything is possible"
Mati Greenspan, senior marktanalist bij eToro, een sociaal handelsplatform, sluit niet uit dat bitcoin rechtstreeks naar 1.500 dollar zou kunnen gaan, zoals sommige analisten voorspellen.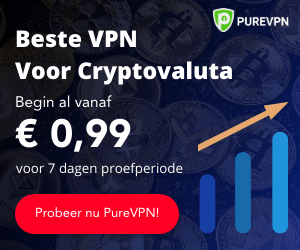 "Anything is possible but I would say that we have a lot of key levels before that will more than likely support the price. As you can see, we're currently testing the light support level at USD 3,500 (blue). If it breaks through to the downside we will likely encounter heavy support at USD 3,000 yellow. The red line is set at USD 1,800. All of these levels have played a significant role during the rise of 2017," schreef de analist in een dagelijks commentaar op donderdag.

Volgens hem is er, voor institutionele beleggers die willen investeren in de activa in plaats van de infrastructuur, echt niet veel reden om het op dit moment goed te doen. "There simply isn't FOMO [fear of missing out]," zegt Greenspan.
"However thinking long term, if we do think that bitcoin will pass through the all-time highs anytime within the next decade, it won't make much sense to wait until it USD 1,500 to start placing orders. Rather, large traders tend to set small orders in order to average out their entries," voegde hij eraan toe.
Ondertussen zegt crypto-analist Tone Vays dat op zijn minst "het slechter wordt":
Taking a short break from #LABITCONF2018 to bring you guys a #Bitcoin price update. $BTCUSD charts looked very Bearish at this time yesterday & unfortunately it's getting worse.https://t.co/8jdBqlcV0a

— Tone Vays [@Bitcoin] (@ToneVays) December 6, 2018
___
Ethereum flash-crash
Ethereum, dat lange tijd de positie had als de op een na meest waardevolle cryptocurrency, zakte op vrijdagochtend met meer dan 16% omlaag en bereikte het prijspeil dat sinds mei 2017 nog niet is bereikt. ETH was samen met Stellar en EOS een van de grootste verliezers van de top 10 munten van de afgelopen 24 uur.
De cryptocurrency beleefde ook een zeer ongewone gebeurtenis 's nachts toen het een flash-crash op het Coinbase Pro-platform zag, kortstondig het naar 13 dollar stuurde voordat het herstelde, in wat alleen kan worden omschreven als een spectaculaire flash-crash.
Coinbase Pro reageerde op het incident door simpelweg te zeggen dat ze "op de hoogte waren van prijsbewegingen", zonder een soort van fout toe te geven:
So market selling through 88% of the orderbook on eth/usdc is working as normal ?

— I am Nomad (@IamNomad) December 6, 2018
Het is nog steeds onduidelijk wat precies de oorzaak was van de plotselinge daling van de ETH-prijs, maar de extreem snelle uitverkoop en het daaropvolgende herstel is waarschijnlijk een teken van handelsalgoritmen die een sneeuwbaleffect creëren, bijvoorbeeld veroorzaakt door een grote order of een "dikke vinger" een verkeerde bestelling invoeren.
Bitcoin SV passeert BCH
De tweede grote happening van de ene op de andere dag was Bitcoin SV, de Bitcoin Cash-vork die op 15 november ontstond en de meer mainstream Bitcoin ABC (gewoonlijk kortweg Bitcoin Cash genoemd) voorbijstreefde in termen van marktkapitalisatie.
Will the real Bitcoin Cash please stand up? pic.twitter.com/3GhFw73ZSb

— Whalepool (@whalepool) December 7, 2018
___
I might actually feel bad for Roger in this scenario. Coin birthed by a total fraud takes the lead. pic.twitter.com/G1hhcA5FsX

— Alan Silbert (@alansilbert) December 7, 2018
___
Op het moment van schrijven zijn de twee nog steeds wisselende plaatsen tussen de meest waardevolle cryptocurrencies, maar er is op dit moment geen duidelijke winnaar.
In de gemeenschap speculeren velen dat dit slechts een kortstondige poging is van het Bitcoin SV-kamp en de hoofdschuldige Craigh "faketoshi" Wright om de prijs van hun munt op te pompen. Als dat het geval is, zullen de pumpers waarschijnlijk binnenkort geen nieuw kapitaal meer hebben en is de rally misschien van korte duur.
Bitcoin Cash heeft de afgelopen weken een bijzonder scherpe daling doorgemaakt, omdat de interne kloof in de BCH-gemeenschap beide kanten slecht heeft getroffen. Zoals gemeld haalde Stellar BCH in als de vierde meest waardevolle cryptocurrency door marktkapitalisatie.
____
Crypto community reacties
Looked at the charts and started to understand the game of the bulls.

I see you. It's going to be a big year.

Really looking forward to 2027 🚀

— CRYPTOGRAPHY CO฿AIN (@CryptoCobain) December 6, 2018
_____
I find it very difficult to make the case that there *won't* be rising demand for a supra-sovereign digital asset with absolute scarcity over the next 5-10 yrs.

Even harder to make the case once you layer on the additional capabilities (& demand) unlocked by programmable money

— Spencer Bogart (@CremeDeLaCrypto) December 6, 2018
____
cryptotwitter burying market pic.twitter.com/cpapI2veNa

— ฿ully esq. (@BullyEsq) December 6, 2018
____
Christmas has been fucking cancelled.

Happy holidays.#crypto

— Ryan Selkis (@twobitidiot) December 7, 2018
____
The current VanEck SolidX Bitcoin ETF proposal has been delayed to its final decision deadline of February 27, 2019.https://t.co/faWtPNbgj6

It can no longer get delayed & a final decision must now be made.

Will this BTC ETF proposal get approved or rejected by the SEC?

— Alex Sunnarborg (@alexsunnarborg) December 6, 2018
___
Now it's as important as ever to *move slow*....

My conviction in Bitcoin long term has not changed at all. There will be cycles, booms and busts, as its value has been mostly driven by narrative and potential in the past. pic.twitter.com/GU7kYAwI85

— Luke Martin (@VentureCoinist) December 6, 2018
___
I didn't get a chance to write this blog post, but discussed it subsequently at length on a number of podcasts. The fiat pressure on ICO companies right now is what is putting pressure on the broader market. https://t.co/LoxSnj5vs1

— Vinny Lingham (@VinnyLingham) December 6, 2018
____
This is not Altpocalypse. Not yet. Bitcoin is dumping, & scamcoins are still strongly correlated (w/ higher beta). They're still just (useless) BTC derivatives. Altpocalypse will be that glorious moment in which scamcoins will continue their run towards zero DURING A BTC PUMP!!!

— Giacomo Zucco (@giacomozucco) December 7, 2018
____
I like those odds for 2019. pic.twitter.com/Cw9tUXDGt8

— Ambroid (@anambroid) December 6, 2018
____
Putting together the current snapshot of market price action and fundamental blockchain indicators here's my most feasible scenario for the coming year. Not a map for trading, but should help long term HODLers judge when and at what price levels to enter. pic.twitter.com/Z5bCxaPptw

— Willy Woo (@woonomic) December 2, 2018
____
What they're actually doing is loading up on cheap Bitcoin to approve the ETF in February... obviously 😅 #Narrative

— WhalePanda (@WhalePanda) December 6, 2018