Bitcoin stijgt 16% binnen een uur, Crypto-markt volgt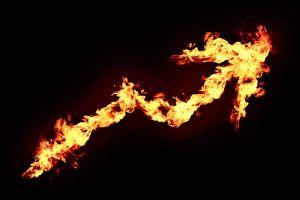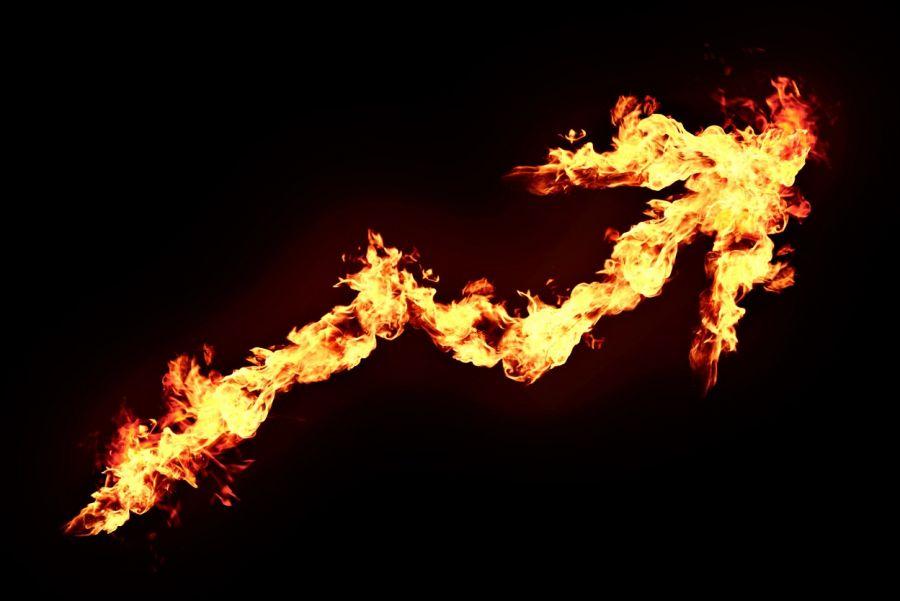 Op dinsdagochtend sprong de prijs van Bitcoin plotseling met 16% in een uur (05:29 UTC) en bereikte $4.882 per munt, of het niveau dat voor het laatst werd gezien in november 2018, voordat de winst werd teruggebracht tot $4.722 (07:00 UTC.)
Andere topmunten boekten ook sterke winst per uur van 3,2% - 11,45% en zijn later ook weer gedaald. Bovendien overtrof bitcoin zijn 200 dagelijkse voortschrijdend gemiddelde, dat wordt beschouwd als een zeer belangrijke meeteenheid in technische analyse.
Op het moment van schrijven is bitcoin de afgelopen 24 uur met meer dan 13% gestegen, waardoor de wekelijkse winst is gestegen tot bijna 20%.
BTC-prijsgrafiek:
(07:00 UTC)

Bitcoin heeft net twee achtereenvolgende maanden winst geboekt, met een stijging van meer dan 10% in het eerste kwartaal dit jaar.
Zoals gemeld, is de Bitcoin-bodem al opgetreden, omdat er geen extra verkopers aankomen, volgens de in New York gevestigde onderzoeks- en adviesketen die gespecialiseerd is in de markt voor digitale activa Delphi Digital.
Ondertussen zijn er recentelijk meer tekens verschenen waaruit blijkt dat het altcoin-seizoen ook hier is.
____
Top 10 munten volgens marktkapitalisatie:
(07:00 UTC)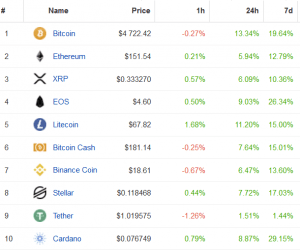 ____
Jehan Chu, managing partner bij investerings- en adviesbureau blockchain Kenetic Capital , vertelde Bloomber dat de Bitcoin-markt en cryptomarkt nog steeds erg onderhevig zijn aan enthousiasme.
"I don't think today is anything special other than a temporary enthusiasm," vertelde hij.
Ondertussen stelde Mati Greenspan, senior analist op sociaal handelsplatform eToro, in een tweet voor dat "het aan de hand van de timing lijkt of de pomp afkomstig is uit Japan of Zuid-Korea" terwijl zijn volgelingen ook wijzen op China, het Midden-Oosten en India.
Ook wijzen andere handelaren naar short sellers:
Around $500m in liquidations on Bitmex alone, ouch
____________________
chart @TensorCharts pic.twitter.com/wePyX7hbL7

— Edward Morra (@edwardmorra_btc) April 2, 2019
In beide gevallen, terwijl de cryptoverse worstelt om een ​​duidelijke verklaring te vinden voor de onverwachte sterke rally, klagen sommige crypto-gebruikers dat grote crypto-uitwisseling
Binance "is unusable".
Binance-CEO Changpeng Zhao tweette en voegde later eraan toe dat hij ook "eerlijk gezegd niets" is wat de rally veroorzaakte:
Some UI server scaling issues, affecting some users, being fixed now. API should be scaling fine.

— CZ Binance (@cz_binance) April 2, 2019
Binance staat echter niet alleen vandaag als het gaat om technische problemen:
We are slowly rebuilding one hour of minute data from 06:02 GMT to 06:52 GMT. Our aggregation server struggled to process a spike of 3000 trades per second, we are deploying a second aggregation server today. One will calculate top 20 coins the other will calculate all the rest.

— CryptoCompare (@CryptoCompare) April 2, 2019
____
Reacties:
If you're feeling mad FOMO, I'd wait until at least a retrace to ~4700-4750 pic.twitter.com/OA66DPboM2

— The Crypto Dog📈 (@TheCryptoDog) April 2, 2019
___
#bitcoin - $BTC

What a beast, broke 200EMA and any resistance on its way 💪🏻

Short squeeze? pic.twitter.com/3oAh5LjbrD

— TEDDY 🌐 (@teddycleps) April 2, 2019
___
$BTC pic.twitter.com/OcU1TQjzeZ

— FatihSK87 (@FatihSK87) April 2, 2019
___
LTCUSD is the first to break this bearish pattern. Similar patterns in other majors but LTC is the first to invalidate my count, leading to new lows. Lets hope it can close above and continues to show the others where to go. Been eyening this for weeks, key level in all my charts pic.twitter.com/JzEbHsb7Jc

— Crypto_Ed_NL (@Crypto_Ed_NL) April 2, 2019
___
Volatility is back ... PARTY TIME! pic.twitter.com/M6w3ovKyUT

— Arthur Hayes (@CryptoHayes) April 2, 2019
____
10.5 hours. My $BTC transfer has now taken 10.5 hours. In the last few minutes, I've watched the mempool go from 43k unconfirmed transactions to 46k. If you don't remember what a bull market $BTC explorer looked like, IT WAS A BIT LIKE THIS.

— 🌱he Shitcoin Sherpa (@ShitcoinSherpa) April 1, 2019
___
The question now is : is this the beggining of something bigger ? Reverse in the macro trend ?

Or are we seeing the first attempt of breaking 5k-6k, in the many potentially necessary to break it ?

Things are getting exciting.

— Pierre (@pierre_crypt0) April 2, 2019
___
"Today's spike in Bitcoin's price was caused by more people buying and holding."

- Samson Mow

(Media, feel free to quote me in the articles.)

— Samson Mow (@Excellion) April 2, 2019