Bitcoin passeert $17.000, grote Altcoins doen het nog beter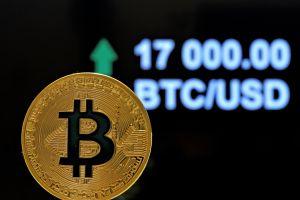 Op dinsdag bereikte de meest populaire cryptocurrency, bitcoin (BTC), voor het eerst sinds januari 2018 het niveau van $17.000. Andere grote munten uit de top 10 presteerden vandaag nog beter dan BTC.
Op pixeltijd (12:58 PM UTC) wordt BTC verhandeld tegen $17.038 en stijgt met 4,5% in een dag en 11% in een week. Het steeg ook met 49% in een maand en 99,5% in een jaar.
Het duurde een week voordat BTC was gestegen van $15.000 naar $16.000 en vijf dagen om $17.000 te bereiken. En terwijl BTC het beter deed dan ethereum (ETH) vandaag (+3.5%, $471), deden munten als XRP, litecoin (LTC) (+9%), polkadot (DOT) en cardano (ADA) (beiden +8%) het nog beter.
"We are currently witnessing extremely bullish price action in BTC. Driven by a mix of market structure and strong fundamentals, BTC could now be within days of reaching it's all-time high [of USD 20,000]," zei Nicholas Pelecanos, Head of Trading bij NEM (XEM), in een reactie per e-mail.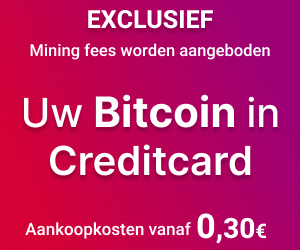 Volgens hem ligt aan deze bullish prijsactie ten grondslag het verhaal van de inflatiehedge "dat Wall Street heeft veroverd sinds de immense gelddrukcampagnes die de [Federal Reserve] eerder dit jaar heeft ondernomen."
"In the US, we are even seeing current or former government officials who are beginning to invest in bitcoin. SkyBridge Capital, an investment firm founded by former White House Communications Director Anthony Scaramucci, has indicated in a pair of filings that the fund may hold long and short positions in digital assets. US Senator-elect Cynthia Lummis has recently announced that she hopes to bring Bitcoin into the national conversation and that it should be viewed as a store of value to counter inflation of US dollars," aldus Kadan Stadelmann, Chief Technology Officer bij Komodo (KMD).
Tom Fitzpatrick zei, Managing Director bij Citibank, vorige week dat "Bitcoin het nieuwe Goud is" dat tegen december 2021 $318.000 zou kunnen bereiken.
"Het is echter onwaarschijnlijk dat het slechts een lage tot hoge rally van 102 keer zou zijn (procentueel de zwakste tot dusverre) op een punt waarop de argumenten voor Bitcoin het meest overtuigend ooit zouden kunnen zijn," zei hij.
Ondertussen zijn de meningen verdeeld of deze rally veel nieuwe investeerders in de ruimte brengt.
"Het aantal vragen dat ik er nu over krijg, is een fractie van wat ik een paar jaar geleden kreeg toen het erg heet was," vertelde Kathy Jones, Chief Fixed Income Strategist voor Schwab Center voor Financial Research, aan Bloomberg.
"Bitcoin krijgt aandacht als het erop lijkt dat de wereld ten einde loopt, het is de handel in antivaccins. Aangezien aandelen en al het andere het beter hebben gedaan en mensen handelsoorlogen zijn vergeten en dingen zijn overschaduwd door de pandemie, heeft Bitcoin een achterbank voor dat alles," zei Bryce Doty, portefeuillemanager bij [B] Sit Fixed Income Advisors [/ B].
Matt Maley van [B]Miller Tabak + Co.[/B] vertelde Bloomberg echter dat institutionele beleggers misschien meer aandacht besteden aan de crypto-ruimte - hij heeft er de afgelopen weken wat telefoontjes over gepleegd.
[HTML] <script type="text/javascript" src="https://ssl.gstatic.com/trends_nrtr/2402_RC03/embed_loader.js"></script>
<script type="text/javascript">
trends.embed.renderExploreWidget("TIMESERIES", {"comparisonItem":[{"keyword":"bitcoin","geo":"","time":"2015-11-17 2020-11-17"}],"category":0,"property":""}, {"exploreQuery":"date=today%205-y&q=bitcoin","guestPath":"https://trends.google.com:443/trends/embed/"});
</script>
[/HTML]
[TWITTER="https://twitter.com/AnthonyDessauer/status/1328553098776698881"]
img=https://pbs.twimg.com/profile_images/1224441752787881994/OI9YiA78_normal.jpg
nick=AnthonyDessauer
name=Anthony 🔴
date=Tue Nov 17 04:18:36 +0000 2020
text=suicides. When dumbass traders realize what they had in their hands that they sold for a measly 2-3x. Working class… https://t.co/LAvfYZFoIM
id=1328553098776698881
[/TWITTER]
__
[H=2]Andere reacties:[/H]
[TWITTER="https://twitter.com/dpc_pw/status/1328592941934407681"]
img=https://pbs.twimg.com/profile_images/1059646467734831104/SbUaq8i3_normal.jpg
nick=dpc_pw
name=Dawid Ciezarkiewicz
date=Tue Nov 17 06:56:56 +0000 2020
[email protected] End of 2016, when it was nearing the previous ATH, it was also under the radar. The real action started aft… https://t.co/u5Bl1IWzEn
id=1328592941934407681
[/TWITTER]
[TWITTER="https://twitter.com/NicolasFlamel77/status/1328495113509724166"]
img=https://pbs.twimg.com/profile_images/1148477852440039425/x-qTJU2r_normal.jpg
nick=NicolasFlamel77
name=Nicolas Flamel 🔥
date=Tue Nov 17 00:28:11 +0000 2020
[email protected] @Maisie_Williams Hey Mike, my biggest fear is that BTC $50k is the top and I don't sell enough there. My… https://t.co/sFZfbfsHQd
id=1328495113509724166
[/TWITTER]
[TWITTER="https://twitter.com/cointradernik/status/1328666313632387074"]
img=https://pbs.twimg.com/profile_images/1212736725883269121/j1U08CqV_normal.jpg
nick=cointradernik
name=Nik Patel
date=Tue Nov 17 11:48:29 +0000 2020
text=In fact even riding the 200-hour MA would see us at 20k by ~Dec 5th. Madness.
id=1328666313632387074
[/TWITTER]